"Unless someone like you cares a whole awful lot, nothing is going to get better, it's not." - Dr. Seuss
As an educator of both children and young adults in the sciences, I can attest that building the next generation of science, technology, engineering, and mathematics (STEM) professionals is no easy feat. Approaching this broad-scale societal need takes many small steps. The first step to educating younger generations is providing them with a brave space to explore, learn, ask questions, and be open to follow their own curiosities. The next step is to help students build soft skills, such as confidence in speaking, problem solving, approaching research, and communication. Effective learning by the protege and teaching from the mentor is a direct by-product of the mentor-protege relationship. We learn best from people we trust, respect, and appreciate. Our mentors provide us with the first pathways into being successful, and being a good mentor ensures that we can continue to provide pathways for younger generations. This approach to education allows my students to have ownership of their learning, which gives them the power to determine how they succeed.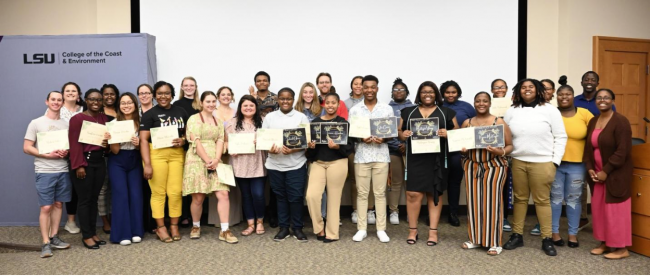 Such educational opportunities can take the form of small-scale outreach, in-class lessons, or in more immersive experiences, such as the Global Council for Science and the Environment (GCSE)'s EnvironMentors program. Broadly, EnvironMentors is an science education and national college access program for underrepresented communities to conduct environmental research and acquire skills to build a career in the sciences. Louisiana State University (LSU)'s EnvironMentors Chapter is one of 7 chapters located at GCSE member and partner institutions across the United States. At LSU, our program seeks to increase STEM accessibility and literacy through place-based learning and near-peer mentorship.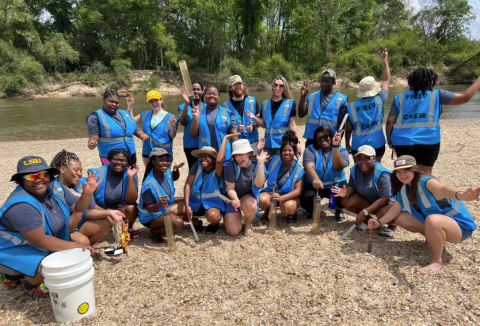 The structure of the LSU EnvironMentors program is to bring underrepresented high schoolers (proteges) into an academic environment to work with LSU undergraduate and graduate students (mentors) studying topics in STEM. This program aims to build and enhance the skill sets of both the mentors and proteges. At each meeting, the group conducts a STEM activity, and then the proteges and mentors are partnered together to conduct a year-long research project of the protege's interest.  We also have field trips around Louisiana, which are geared towards college access and preparedness, or focused on ecosystems and how to study them. 
This year, we brought our program to the Atchafalaya River basin, where students learned how to create their own data sheets to study water quality and benthic ecology. Students also learned about the issues that are currently impacting that region, both within the natural environment and the built environment. On an overnight field trip, students learned how to conduct transect sandy beach research, mineral identification, and pine forest vegetation surveys. Field trips like these highlight the role of place-based learning, by allowing our proteges and mentors to venture into nature, conduct different field methodologies to better understand the natural processes, and observe the interrelatedness between us and our world.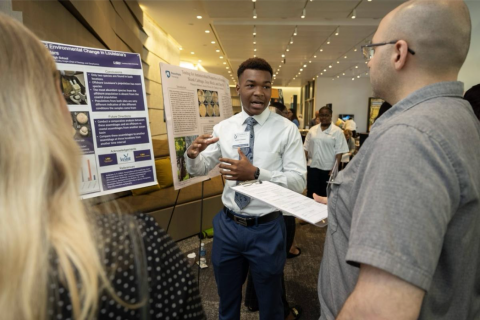 EnvironMentors provides the proteges with opportunities to see that STEM is accessible and that they can be the next generation of researchers, learners, mentors, and stewards for the environment. The role of mentorship in this transformative process has become a highlight in the academic community, focused on how mentors play an important role in proteges' successes, professional development, and confidence, especially in STEM fields. This year, LSU's EnvironMentors leadership was interested in learning how our program benefits both the mentors and proteges. Our review focused on how our place-based learning approach builds both the proteges' and mentors' confidence and skill sets. As many of our mentors are graduate students, each of their careers will always have a form of mentorship embedded within it, whether they remain in academia or elsewhere. Therefore, we also examined the role of mentorship in providing space to build community and increase opportunities for professional development.
For our review, we conducted exit surveys with all participants in the 2022-2023 LSU EnvironMentors program.  What we found is that all LSU EnvironMentors proteges stated that participating in EnvironMentors inspired them to study a STEM field, science, or other program that deals with the environment; that EnvironMentors explained the importance of being environmentally literate and why it is needed in our community; and that EnvironMentors taught them how to conduct research and appreciate its contribution to society. With respect to professional development, all proteges reported an increase in their confidence with public speaking and their problem solving skills. They all agreed that their experience in EnvironMentors increased their knowledge of how to conduct effective and accurate research.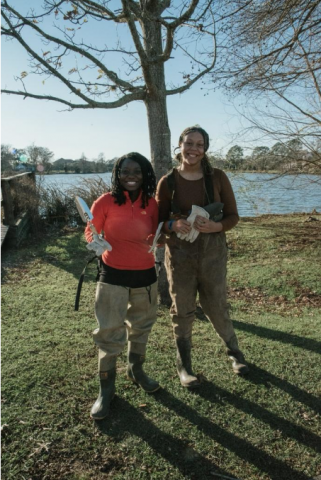 All high school participants stated that the support of the mentors aided in the growth of their knowledge in STEM fields, helped grow their confidence, and provided a positive and safe learning environment. 
"[I liked] the versatility that was offered by EM and all its mentors. There were many mentors with different degrees and walks of life which strongly contributed to the positive, productive environment." - LSU EnvironMentors protege
All mentors stated that EnvironMentors provided them opportunities to build their professional skill set and increased their confidence in problem-solving skills and public speaking. All mentors also stated that their confidence in mentorship grew this year. There is a saying that you don't know something well enough until you can teach it. The EnvironMentors program provides mentors with that opportunity. Our results show that after participating in EnvironMentors this year, mentors are more confident researchers, and that they are comfortable leading a research project.
"I loved all the mentors and proteges getting comfortable with each other to interact as a group… I loved seeing my protégé's engagement, confidence, and excitement grow as we created a supporting environment. I loved being around other people who are excited to learn and share." - LSU Mentor
No matter what career or life direction our program's proteges and mentors take, LSU EnvironMentors serves as a platform to bring people together to embrace the world around us, explore our relationship with it, and collectively further our knowledge about it. My work with the EnvironMentors program has broadened my own perspective about what is required to build scientific intellect and environmental awareness in future generations, and how that applies to their roles in society. We utilize our differences in lived experiences and worldviews to better understand each other, learn about the world, and generate new ideas. In essence, this program allows everyone to recognize their voice and have a seat at the table, and I am especially proud that I have been able to create that space and environment for our mentors and proteges to succeed. To build the next generation of STEM professionals, effective mentorship may just be the determining factor:  "Unless someone like you cares a whole awful lot, nothing is going to get better, it's not."  - Dr. Seuss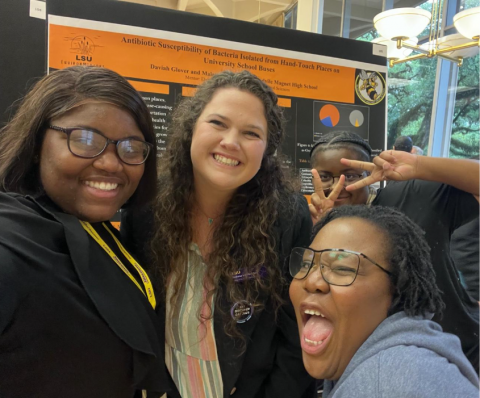 EnvironMentors helped me form a love for science… EnvironMentors connected me to the world around me, teaching me about natural and built environments. They even raised awareness of issues impacting the environment upon which we all depend, as we as actions we can take to improve and sustain it. And that's what took my heart about EnvironMentors. With the help of my mentors, I got out of my shell more. They helped me increase my vocabulary and encouraged me to talk to different college professors, undergraduates, Ph.D. students, and even different scientists I met attending science conventions. EnvironMentors made me realize how much I enjoy science and inspired me to major in forensic science next year, my freshman year in college…Dealing with experiments and science is not always easy, but challenges and problems are essential parts of life; if you allow them to, they can make you wiser and stronger." - LSU EnvironMentors protege
The opinions expressed in this essay are those of the author. They do not purport to reflect the opinions or views of the GCSE or its members.